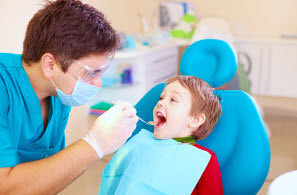 Life with teething babies can be stressful and filled with many sleepless nights. We're here to help you Navigate the teething landscape with the primary source – the little tooth! Take a look at what he/she has to say.
You can expect me to make my appearance around the time our little one is 6-8 months old. But you should be patient, because sometimes I need a little more time and will appear around 12-14 months.
You will be warned of my arrival because your little one may be irritable and attempting to chew on hard objects. Usually I show up first in the bottom jaw with a buddy and then two of my top teeth friends will join us a bit later.
The best way to help me introduce myself to your little peanut is to use a teething ring or gently rub your little one's gums with a cool wet washcloth. Just make sure your hands are clean!
The time will come and I will make my appearance! Once I'm here, it's imperative to help your little one brush each morning and night. You'll have to begin flossing when I'm touching another tooth.
Once I appear, it's time to visit the dentist!! They can tell you how to take care of my baby teeth friends and me once we all arrive!
If your little one's baby teeth have already arrived, but you haven't seen a dentist, it's not too late! You can make an appointment to visit our office by calling 610-489-5555