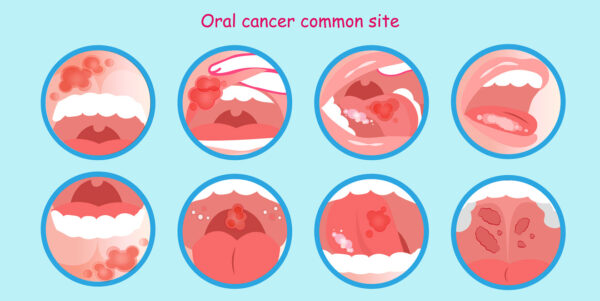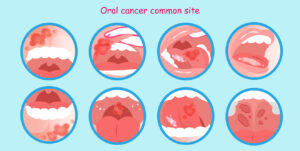 Oral Cancer Facts & Symptoms to Look Out For
Close to 54,000 new cases of oral cancer are expected be diagnosed in the United States this year alone. Here at Advanced Dentistry of Collegeville, we want to stress the importance of getting screened for oral cancer regularly. If you have never had an oral cancer examination, there is no better time than now to do so! Often, a dentist is the first person to find oral or oropharyngeal cancer during a routine examination.
What is Oral Cancer?
Oral cancer is a form of head and neck cancer that develops in one or more sections of the mouth. Risk factors include tobacco use (both smoke and smokeless forms), heavy alcohol consumption, and an infection with certain types of human papillomavirus (HPV).
Oral cancer can affect your lips and the front parts of your tongue, roof of mouth, and floor. It can also affect your oropharynx – the last part of your tongue and roof of your mouth, your tonsils, and the sides and back of your throat.
Oral Cancer Facts
More than 90% of oral cancers occur in areas exposed to tobacco
Oral cancers are among the four most commonly occurring cancers in men and women in the United States
Men are more likely than women to develop oral cancer
Oral cancer is one of the top 10 causes of death due to cancer worldwide
Every hour someone dies from oral cancer, however, if detected and treated early on, survival rate increases.
Signs & Symptoms of Oral Cancer
The overall commonality of all symptoms below is they are persistent and never go away.
The most common symptom is a sore in the mouth or on the lip that does not heal
Red or white patch on the gums, tongue, tonsil, or lining of the mouth
Lump on the lip, mouth, neck, or throat or a feeling of thickening in the cheek
Persistent sore throat or feeling that something is caught in the throat
Hoarseness or change in voice
Numbness of the mouth or tongue
Pain or bleeding in the mouth
Difficulty chewing, swallowing, or moving the jaws or tongue
Ear and/or jaw pain
Chronic bad breath
Changes in speech
Loosening of teeth or toothache
Dentures that no longer fit
Unexplained weight loss
Fatigue
During later stages of the disease, people may experience a loss of appetite
Oral Cancer Treatment
Oral cancers can often be cured, especially if the cancer is found at an early stage. As with most cancers, treatment of oral cancers involves surgeons, oncologists, dentists, and rehabilitation and restorative specialists. In early stages, surgeons can remove the tumor and any cancerous lymph nodes. Depending on your stage or severity, radiation and/or chemotherapy may be used to kill cancer cells. Nutrition is also an important piece of treatment by choosing foods that will be gentle on the mouth and throat.
Oral Cancer Screening
When you get an oral cancer exam, your dentist exams the inside of your mouth to check for any signs of oral cancer such as red or white patches or mouth sores. They also will feel the tissues in your mouth, throat, and neck to check for lumps or anything abnormal.
Screening for changes in the mouth, tongue, gums, and throat is essential to diagnose problems early. Are you in need of an oral cancer screening? Want to schedule your next dentist visit? Give us a call at 610-489-5555 today to schedule an appointment.